#20: Loving Kindness and Stress Management During COVID-19 with Janet Logothetti
Music by: SAICS  | Music produced by: Keith Milutinovic
HIGHLIGHTS FROM THIS EPISODE:
6:50 - Meet Janet Logothetti, an amazing executive coach and partner in Evolution.
9:26 - 2 minute Check in exercise with Caneel and Janet.
14:46 - This is a time of shifting, there are many different types of leaders that will benefit from being dynamic and flexible at a time like this.
16:49 - Janet names some patterns and instances that she is noticing in her clients during the Coronavirus pandemic, specifically dizziness and disorientation. 
18:04 - Janet names the chaos. Naming a situation helps give you control over it. Currently we are in a VUCA time - volatile, uncertain, complex and ambiguous.
19:25 - Janet gives advice to those in leadership saying that we have a responsibility to the greater community to be centered and grounded right now during the COVID-19 outbreak.
22:00 - Caneel discusses working from home and how to adjust. It is important to move around and not just sit all day at your desk. You are allowed to take the time to create your workspace. Right now, self regulate and self care are a necessity.
23:41 - Janet covers some actions that will serve conscious leaders well right now, as well as those that do not serve us. 
25:27 - Caneel and Janet talk about how to meet our social needs as human beings while practicing social distancing. Loving kindness is key.
28:16 - Caneel discusses different aspects of reality and a leader's ability to actually create reality when the future is very uncertain.
30:13 - Caneel and Janet discuss why group check-ins are a tremendous tool that leaders and families can utilize during this COVID-19 era that will keep us grounded, connected and feeling heard. 
35:23 - Janet and Caneel talk about pleasure being the antidote to stress.
38:49 - Caneel and Janet cover the fact that every minute during this Coronavirus crisis leaders are faced with a new opportunity to lead consciously by being creative and curious.
41:47 - Janet walks us through a Loving Kindness Meditation to help us center and find calm and peace in our own lives, as well as in the lives of our loved ones.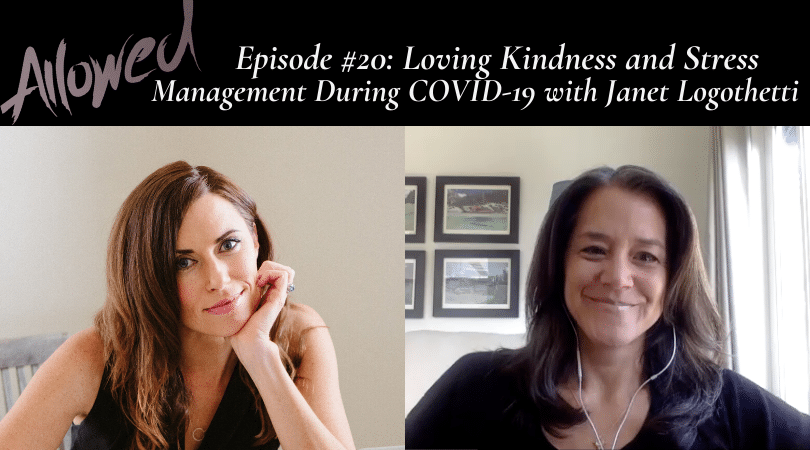 Janet Logothetti provides leadership development, executive coaching and thought partnership to business founders and leaders as a partner Evolution. Her clients include Facebook, Slack, Uber, and Kiva.
Her work focuses on building leadership and culture to sustain innovation and execution through rapid growth and is influenced by a variety of interests and study including behavioral economics, neuroscience, sensorimotor regulation, attention, transpersonal psychology, world wisdom traditions, and peak performance.
She has been a student of meditation for nearly 20 years in the Tibetan tradition and teaches it to interested clients.
Today we talk with Janet about how to create an environment of loving kindness and how to manage stress during COVID-19.
Loving Kindness Meditation with Janet Logothetti
Enjoy a moment of peace and love while Janet Logothetti walks you through a Loving Kindness Meditation. 
Subscribe & Review on iTunes
Are you subscribed to the show?
If you're not, be sure and do that today. I don't want you to miss an episode or bonus, and if you aren't subscribed, there's a good chance you'll miss out on those. Click here to subscribe in iTunes!
It would also really help me out if you would take a minute to leave a rating and review over on iTunes, so I can broaden my reach and my ability to help others. It's really easy too! Just click here to review, select "Ratings and Reviews" and "Write a Review" and let me know what your favorite topic we cover is, and what your favorite part of the show is. I'd love your feedback on topics you're interested in for future episodes, and love hearing your overall thoughts on the show. Thank you!
LINKS & MORE MENTIONED IN THIS EPISODE: 
OTHER WAYS TO EXPERIENCE THIS POST:
Keep Up-to-Date with the Latest Episodes: