#33: Nobody Needs a Coach - Frequently Asked Questions About How to Find a Coach and if You Actually Need One
We are currently enrolling our Forward Fearless online group coaching program. This is a live experience where we go deep into a lot of the concepts that you've learned about here on Allowed, and practice walking the walk. We like to keep these groups intimate. If you are interested in doing this deep dive into your authentic self and leading with purpose as the true leader that you and I know you are meant to be, then please give yourself the gift of this amazing support system of like-minded leaders and enroll in Forward Fearless today.
Ultimate Guide to Finding the Best Coach [FREE E-BOOK DOWNLOAD]: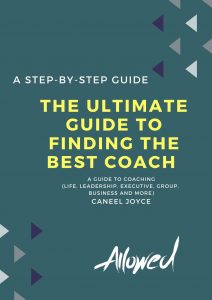 A comprehensive workbook to help you figure out if you or employee needs coaching, is coachable, what kind of coaching is needed, and also to guide you through the coach search process with worksheets to track and set yourself up for success when working with a coach. 
HIGHLIGHTS FROM THIS EPISODE
Where you are now in your life is not where you want to be. It's likely that you've had a few moments like this in your life. In particular, this year might be one of those years where you're really ready for change. And if you're like me, you're a self-starter and you have probably been working at this change for a long time on your own by reading books, Googling, watching videos, brainstorming in your notebook, listening to podcasts... I have done all of them. I have signed up for seminars, I've gone to retreats, I've been to trainings. But I want to tell you that the number one thing that has helped me was also the hardest thing to sign up for. 
So I'm going to teach you a little bit today about how to know if you should make that big leap and begin to work with a coach in real life. That's a really big decision to make. It's a huge investment. You are worth it, but it's a very tricky kind of consumer problem to solve of how to enter this big, huge, confusing industry that is not regulated and it's hard to tell who's good. How do I find somebody that's actually worth my dime and invest in myself? So, wherever you are in this process, this episode is here to guide you.
4:54 - Some of the main questions that people ask about coaching.
6:03 - Question 1: Do I need a Coach?
12:56 - Coaches help raise self-awareness.
15:23 - Question 2: What is your goal? What do you want? What type of coach is best for me?
23:53 - Question 3: Do I need a coach or do I need a therapist?
28:40 - Question 4: Do I want one on one coaching or group coaching?
35:53 - Question 5: How do I find a coach for me?
37:48 - Download the free How to Find a Coach E-Book with over 30 pages of guidance on whether or not coaching is right for you and how to navigate the world of coaching.
More About Forward Fearless:
The Forward Fearless coaching program is going to fill up, and this window of enrollment is actually the last enrollment that we're going to be having this year, so I really hope, if this is something you've been thinking about and you haven't jumped on it yet, that you don't miss this opportunity.  I'm here for you, and I love getting the chance to interact and grow with each one of you.
Subscribe & Review on iTunes
Are you subscribed to the show?
If you're not, be sure and do that today. I don't want you to miss an episode or bonus, and if you aren't subscribed, there's a good chance you'll miss out on those. Click here to subscribe in iTunes!
It would also really help me out if you would take a minute to leave a rating and review over on iTunes, so I can broaden my reach and my ability to help others. It's really easy too! Just click here to review, select "Ratings and Reviews" and "Write a Review" and let me know what your favorite topic we cover is, and what your favorite part of the show is. I'd love your feedback on topics you're interested in for future episodes, and love hearing your overall thoughts on the show. Thank you!
LINKS & MORE MENTIONED IN THIS EPISODE: 
OTHER WAYS TO EXPERIENCE THIS POST:
Keep Up-to-Date with the Latest Episodes: