#44: A Daily Routine for Growth Mindset & Gratitude That Will Change Your Life with Alex Ikonn, Creator of The Five Minute Journal and The Productivity Planner
HIGHLIGHTS FROM THIS EPISODE
As creative thinkers and entrepreneurs, we create tools and products because we, ourselves, need to work on something. For Canadian entrepreneur superstar, Alex Ikonn, co-founder of Intelligent Change and creator of the best-selling Five Minute Journal and Productivity Planner, gratitude was his Achilles heel. When Alex, who had a challenging childhood and at times had felt like a victim of his circumstances, learned the power of gratitude, it shifted his whole life. 
If you have scarcity in your life of some sort, whether it be from things that are happening in your family, or in your career, or relationships, you can get into that trap of saying, "Why me?" When Alex had that first huge realization that you are planting seeds to your reality with your everyday thoughts and that what you focus on, you cultivate and create in your life, everything changed for him. He learned that if you want to make any difference in your life, you have to take responsibility. This led him to create tools like the Five Minute Journal that could act like "toothbrushes for the mind" and help people build new, healthy habits through a daily routine of being grateful that catapults them on a new life trajectory through changing their mindset.
No one can make you unhappy. Once you take responsibility in your life, there is power in this. If you take care of that one being that you can be responsible for – YOU – you're making such a big change because it's going to be a ripple effect and you're going to inspire others. In this episode, Alex Ikonn shares his personal journey and it demonstrates how one truly simple question, asked once per day, can make a massive, fundamental difference in your life. 
Tools & Resources From This Episode:
The Five Minute Journal
The Five Minute Journal is the first journal and iOS/Android app to apply the principles of positive psychology. In under 5 minutes a day, you begin to practice the habits of happiness that are now proven to improve your well being through 20+ years of research. The Five Minute Journal has sold almost 1,000,000 units around the world.
The Productivity Planner
Put productivity on your to-do list. Make prioritization a priority. Accomplish greater results in lesser amounts of time. The Productivity Planner takes advantage of the Pomodoro Technique, empowering you to focus your mental energy on the most meaningful tasks ahead. So, you can take advantage of every moment of every day. Printed on sustainably sourced paper stock from FSC suppliers.
Ultimate Guide to Finding the Best Coach [FREE E-BOOK DOWNLOAD]:
A comprehensive workbook to help you figure out if you or employee needs coaching, is coachable, what kind of coaching is needed, and also to guide you through the coach search process with worksheets to track and set yourself up for success when working with a coach. Plus, stats you can share with your manager or community that support and give evidence of why coaching is important.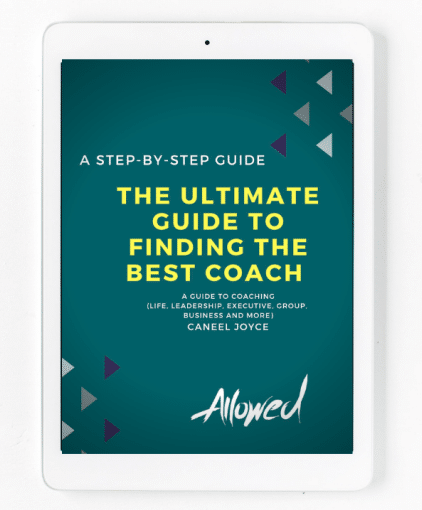 Complimentary Resources for this Episode:
Join the Forward Fearless coaching program 2021 session waiting list now so you don't miss your chance to be a part of this life-changing program.  I'm here for you, and I love getting the chance to interact and grow with each one of you.
Subscribe & Review on iTunes
Are you subscribed to the show?
If you're not, be sure and do that today. I don't want you to miss an episode or bonus, and if you aren't subscribed, there's a good chance you'll miss out on those. Click here to subscribe in iTunes!
It would also really help me out if you would take a minute to leave a rating and review over on iTunes, so I can broaden my reach and my ability to help others. It's really easy too! Just click here to review, select "Ratings and Reviews" and "Write a Review" and let me know what your favorite topic we cover is, and what your favorite part of the show is. I'd love your feedback on topics you're interested in for future episodes, and love hearing your overall thoughts on the show. Thank you!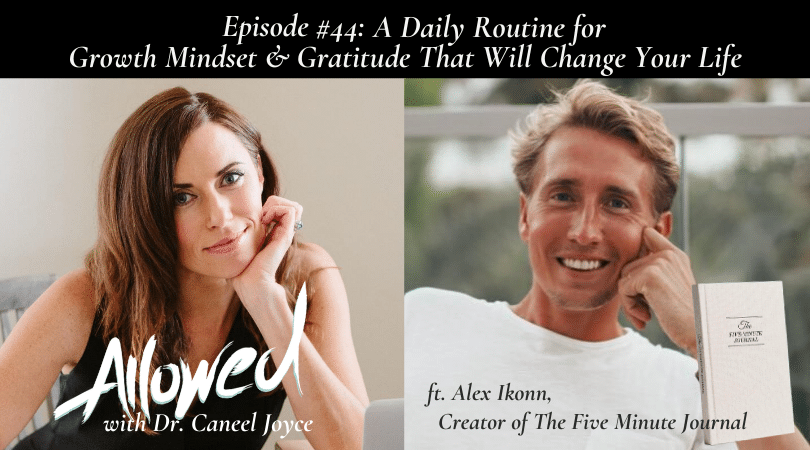 Alex Ikonn is a student of life, always learning. He is an entrepreneur based in London, UK who co-founded several successful businesses including Intelligent Change where he created the best-selling Five Minute Journal (1M in print) and Productivity Planner (200k+ in print). Luxy Hair was his first startup he co-founded with his wife Mimi Ikonn and her sister in 2010 which came to be one of the largest Direct-to-Consumer hair extensions e-commerce brands online (acquired Dec. 2018). They are also angel investors and have invested in great companies like Calm, June, Tradesy, and others. His YouTube channel is his outlet to deliver value to people as he goes along his journey and learns things along the way that he wants to share with others.
LINKS & MORE MENTIONED IN THIS EPISODE: 
OTHER WAYS TO EXPERIENCE THIS POST:
Keep Up-to-Date with the Latest Episodes: